every two months, or so, i am in the mood for making my very own "dance & electronic" compilation (originally for my car, but since i don't have one anymore, i make one for my itouch). i call it "move! you(r) indie bum". the title is a bit provocative, but since most of the self-proclaimed true indie-listeners are a bit closed minded about everything, that is no true indie, i thought it was a nice way to tell them how stupid they are, plus i always found it funny how those people go to clubs, just for standing around and complaining about the bad music they're playing. i dedicate my compilations to them, in hope they'd start moving their closed minded bums to the music on my compilation. besides.... i like good dance music. i don't see any deep disagreement in liking ones like
grizzly bear
,
animal collective
,
yeasayer
and ones like
vitalic
,
delphic
,
relation
or others. besides, i don't put any garbage on these compilations as i'm always looking for innovative sounds and good remixes.
the past months i was in the mood for a bit more "nu disco'ish" and less technoid stuff. since i am in love with most of the
valerie
stuff,
kitsuné
, and
modular
releases, i decided for 16 tracks, mainly from artists, that either sound like that, or release on one of the named labels.
would you go and dance with me on the tracks.... or would you stand around, complaining? ....listen and decide.
former compilations (i made in 2009): p.i.s. x2.8 - move! you(r) indie bum vol. 8, p.i.s. x2.7 - move!you(r) indie bum vol. 7, p.i.s. x2.6 - move! you(r) indie bum vol. 6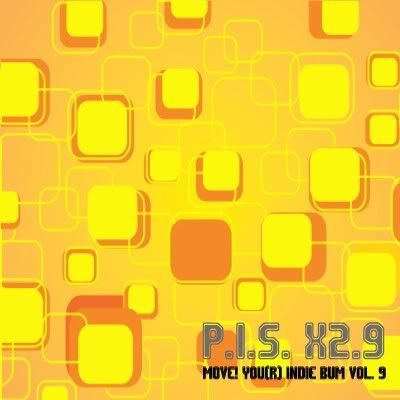 01. fear of tigers - please don't leave (3:40)
02. delphic - this momentary (le matos remix) (6:12)
03. electric youth - faces (4:11)
04. zoot woman - live in my head (4:05)
05. cassette kids - lying around (diamond cut radio edit) (4:11)
06. two door cinema club - i can talk (golden bug remix) (5:59)
07. vitalic - still (5:24)
08. heartsrevolution - ultraviolence (vitalic remix) (4:47)
09. florence and the machine - dog days are over (an optimo (espacio) remix) (6:43)
10. la roux - i'm not your toy (jack beats remix) (5:37)
11. sub focus - last jungle (3:39)
12. the shoes - bored (4:10)
13. baby monster - ultra violence and beethoven (arveene and misk remix) (4:59)
14. the penelopes - demian (blackstrobe remix) (7:54)
15. relation - your tiny mind (lifelike remix) (7:43)
16. minitel rose - zombie lady (3:36)




this track is not on the compilation, because i don't have the record, but i love it!!!..... (and the video is great)