does anyone remember "skywave"?
skywave was most active around 1999-2001, playing with many east coast american shoegazers, and was a progenitor to the resurgence of

shoegaze in america after its demise in the uk in 1996. much of skywave's albums were released during this period -

took the sun (1998) and

echodrone (1999), along with a variety of ep records.

(<- from last fm, since i don't really know skywave).
i am pretty sure "a place to bury strangers" must have listened to skywave a lot, since their songs sound pretty similar to what these guys did some years before them.
well, two fromer skywave members (paul baker and john fedowitz) formed a new band named ceremony (and i just wonder if they named themselves after that new order song, or not?). musically they continue where they ended up with skywave. noisy post-punk'ish indie-rock (probably shoegaze) with a lot of distortion and that very typical "hard to understand singing". still very similar to "a place to bury strangers". i have a thing for such music, but honestly, we do not need more of these bands.... at least not when they sound replaceable by any other band of that genre. rocket fire is entertaining and has some nice songs on it. listen to "someday" carefully and think of the cure's "in between days".... funny similarity, at least the guitar riff, eh? entertaining album, but nothing really new.
8,5/10 for "someday", 7/10 for the rest of the album

(fk)
ceremony on myspace:
http://www.myspace.com/ceremonytheband
similar artists
:

skywave, a place to bury strangers, the jesus & mary chain, screen vinyl image, alcian blue
tags:
shoegaze
,
post-punk
forthcoming album:
ceremony - rocket fire
(killer pimp - april/27/2010)
order or d/l it from AMAZON!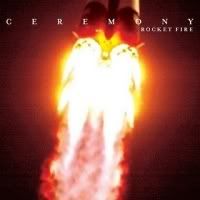 01. stars fall
02. never make you cry
03. breaking up
04. for her smile
05. marianne
06. silhouette
07. don't leave me behind
08. someday
09. it's too late
10. regret