when i first heard of "beach fossils" i thought this was just another noise/shoegaze band, such as a place to bury strangers or skywave/ceremony, but the more surprised i was when i listened to their self titled debut album. this brooklyn three piece does perfect surf-noise-pop.... even better than real estate, or some other bands of that genre. them and best coast are like the new beach boys or.... are they just another jesus & mary chain clone? both is right.... beach fossils music has a bit of everything.... it's the sound of summer, it's noisy, it's lo-fi.... it's just good mood music.

last fm says this:
The jangly, self recorded ramblings of Brooklyn's Dustin Payseur, Beach Fossils offers hauntingly catchy tunes that blend the energy of an impulsive road trip with the melodious wandering of a lucid dream. Sun drenched riffs, kaleidoscopic rhythms and hazy lyrics saturate Beach Fossils' first release, the album's carefree vibe perfectly summed up through song titles such as "Daydream," "Vacation," and "Lazy Day."

okay, the album has it's weaks but it also got absolute highs, such as the great opener "sometimes", or "youth" and especially (my fave) "window view". if you're not yet tired of all that hyped surf-pop'ish sound, this album will satisfy you.
8,5/10

(fk)
beach fossils on myspace:
http://www.myspace.com/beachfossils
similar artists
:

real estate, best coast, girls, surfer blood, dum dum girls
tags:
surf
,
noise pop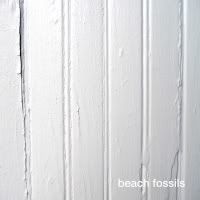 01. sometimes
02. youth
03. vacation
04. lazy day
05. twelve roses
06. daydream
07. golden age
08. window view
09. the horse
10. wilde awake
11. gathering