hailing from belfast/northern ireland and releasing through brooklyn's "captured tracks", girls names are the second northern irish band to reach my ears, after the great two door cinema club. their sound could be described as some mish mash of surf-pop, garage, noise-pop and it's got a bit of early 80s indie pop flair. their self titled ep is a nice warm up for the summer, even though it's not as strong as other artists, releasing on captured tracks.... which is probably my most favourite label at the moment. "don't let me in" is the one track that stands out from the other three songs on the ep.
9/10 for don't let me in, 7/10 for the rest of the ep

(fk)
girls names on myspace:
http://www.myspace.com/girlsnames
similar artists
:

beach fossils, spectrals, dum dum girls, the art museums, best coast
tags:

garage, surf pop
actual ep:
girls names - girls names ep
(captured tracks - april/28/2010)
available on iTunes!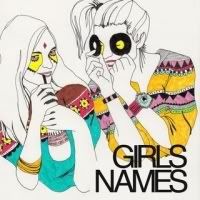 01. don't let me in
02. warm hands, cold heart
03. i guess
04. graveyard