no they are not the drums reloaded, and it's not another band from new york.... these kids hail from arizona, but their sound is pretty similar to a lot of the hyped surf-sound-indie-bands, such as the drums, real estate or surfer blood. i like this sort of muisc.... i dunno why.... maybe because winter was hella long this year, or maybe because i have a thing for poppy indie sounds with a touch of beach boys? anyways, this is another "have fun while listening" record. it contains 7 short songs that could be played on any party after 12, when everyone had enough tequilas to celebrate in shorts and kinky shirts. life can be so much fun in summer and with the right music on!!!
8/10

(fk)
the young friends on myspace:
http://www.myspace.com/theyoungfriends
similar artists
:

real estate, girl alliance, the drums, surfer blood, hooray for earth
tags:

indie, surf pop
forthcoming ep:
the young friends - hella ep
(moodgadget - april/27/2010)
available on iTunes!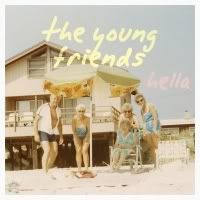 01. be my baby
02. house party
03. i won't break your heart
04. make out point
05. north end
06. riverside kids
07. south end