i would like to introduce you the next
Maman Records
EP released on August 2.
Kisses,
is a los-angeles based disco project featuring jesse kivel (from the band
Princeton
)
and zinzi edmundson.
early in life, kivel developed a friendship with venerated cult disco producer alec r. costandinos, who rose to prominence in the late 1970s on a wave of ambitious concept albums and club singles. as costandinos made available his knowledge and a healthy vinyl collection, the seeds for the kisses album were sewn -- the kisses name chosen as a nod to costandinos' erstwhile 'love & kisses' project. as this creative relationship blossomed, jesse took a day job as a travel writer to help makes end meet. his editors asked him to review hundreds of exotic hotels and resorts, many of which he had never seen or heard of before. the imagery used to write these reviews wove itself through the lyrics of songs like 'bermuda' and 'women of the club', as well as the overall sound of 'the heart of the nightlife'.
the ep is remixed by
DyE
(tigersushi) and
Logo
(kitsuné).
8.5/10

(fk)
kisses on myspace:
http://www.myspace.com/blowkissess
similar artists
:

blackbird blackbird, foster the people, memoryhouse, millionyoung, small black
tags:

indie, chillwave
f
orthcoming ep:

kisses - people can do the most amazing things
- (maman records - august/2/2010)
ep will be available on iTunes!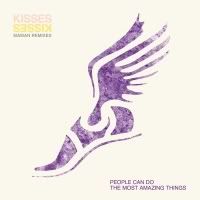 01. people can do the most amazing things
02. people can do the most amazing things (dye remix)
03. people can do the most amazing things (logo remix)