dreamend is the main musical output of ryan graveface, graveface records' owner/sole employee and guitarist/bassist for psychedelic oddballs black moth super rainbow. since its inception in 2002, graveface has released albums by monster movie (ex-slowdive), the loose salute (mojave 3 side project), kid dakota, the appleseed cast, art in manila (ex-azure ray) and many more.
the musical output on the album is not easy to describe. it's some banjo- und xylophon driven freakfolk'ish shoegaze record. the 10 songs work pretty well on rainy days.... but also when you're driving around in some overcrowded bus on a hot summer afternoon. this music makes even the worst smell of an old fat sweaty man, sitting next to you, go away. it's perfume for the ears. especially the magnificent "magnesium light", the outstanding "my old brittle ones" and the epic 10:06 min long "an admission" make this album a stimulating acoustic trip.
dreamend on myspace: http://www.myspace.com/dreamend

similar artists
:

monster movie, bear in heaven, department of eagles, sin fang bous, desolation wilderness
tags:

shoegaze, folk
actual album:
dreamend - so i ate myself, bite by bite
(august 10, 2010)
(graveface records)
mp3 downloads and/or cd available on amazon.com!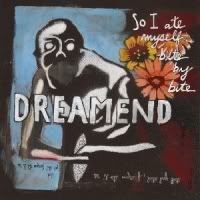 01. pink cloud in the woods
02. where you belong
03. magnesium light
04. interlude
05. repent
06. a thought
07. pieces
08. my old brittle ones
09. aching silence
10. an admission