the past weeks and months has seen the rise of some 80s influenced bands.... to be more precise.... some early to mid-80s new wave influenced bands. we have hurts.... we have night gallery.... we have neuropa (who are amongst us for some years actually) and sees now the rise of the brighton based 4-piece mirrors. back in spring, their first song "into the heart" hit my ears. it was a great synthpop smasher. now, they're back with an ep and honestly, the title track is like the very best 80s/new wave song i've heard since "fade to grey", "vienna", "enola gay" or "are friends electric". if i had hair colour i'd immediately dye my hair blue and put some yellow eyeshadow on. since i am just a music nerd i keep on listening to that song. absolutely fantastic. their song "broken by silence" is less electronic and more pop'ish, which doesn't mean anything bad, at all. their third song "of the night and the light and the half light" is a bit of a gap-filler. i want more of stuff like "ways to an end". awesome!!!!
mirrors on myspace: http://www.myspace.com/mirrorsmirrorsmirrors

similar artists
:

hurts, parallels, neuropa, tesla boy, night gallery
tags:

electronic, new wave
actual ep:
mirrors - ways to an end ep
(august 22, 2010)
(skint records)
available on iTunes!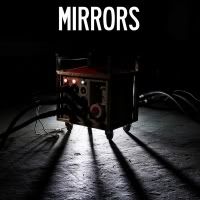 01. ways to an end (radio edit)
02. ways to an end
03. broken by silence
04. of the night and the light and the half light