sea oleena is charlotte oleena from montreal. last fm says this about sea oleena:

sea oleena is messages woven into spiderwebs and slanted sun-rays in open fields. grocery lists read like poetry and tissue-paper flowers. the first diary entry. sea oleena is full days spent staring at walls and a restless feeling that refuses to be ignored. six specific photographs and everything behind last february. sea oleena is just one more way to look at it.

....and last fm is right. one beautiful 7-track mini album, produced by sea oleena's brother luke aka felix green. go and get it on bandcamp.
sea oleena on myspace: http://www.myspace.com/seaoleena

similar artists
:

felix green, rosie and me, beach house, three pairs of shoes, blackbird blackbird
tags:

acoustic, chillwave
actual album:
sea oleena - sea oleena
(july, 2010)
(self released)
available at bandcamp: sea oleena @bandcamp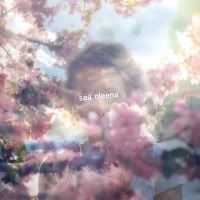 01. swimming story
02. asleep at the wheel
03. island cottage
04. cold white sheets / empty bed
05. and
06. little army
07. lull