the black angels are a
psychedelic rock
band from austin, texas, formed in may 2004. their name derives from the velvet underground song
the black angel's death song
.
phosphene dream is their first release since their highly acclaimed "directions to see a ghost" and their third full length album in general. "phosphene dream" is the right step on the ladder to the stoner/psychedelic/progrock heaven. it's far more of a rock-monster than their previous album was. that also means less drone, shorter songs.... but also more fun. at some parts the vocal intonation reminds me of grace slick from jefferson airplane and musically they combine their stoner/psychedelic rock with beatles'esque harmonies and surfpop elements. this might not amuse hardcore drone-fans, but to me it means evolution... or as someone said.... evolution not revolution. great album... another positvie surprise in 2010.
the black angels on myspace: http://www.myspace.com/theblackangels

similar artists
:

the brian jonestown massacre, the warlocks, darker my love, dead meadow, the morning after girls
tags:

rock, psychedelic
forthcoming album:
the black angels - phosphene dream
(september 14, 2010)
(
blue horizon records
)
album (+ 2 exclusive bonus tracks) will be available on iTunes!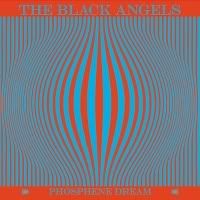 01. yellow elevator #2
02. haunting at 1300 mckinley
03. bad vibrations
04. sunday afternoon
05. river of blood
06. entrance song
07. true believers
08. phosphene dream
09. telephone
10. the sniper