brooklyn's small black come up with their debut album, set for release on october 26 on jajaguwar records. after their highly acclaimed ep "small black" it was just a question of time until they gonna flood us with more dreamy and chilled stuff. to be very very honest.... the album isn't something completely new, but what they do, they do it with a lot more style... with a lot more bass and with a lot more intensity than 80% of all the "wannabe chillwave bands/artists". their songs could be labelled as chillwave, yes, but the whole album is way more danceable than the likes of washed out, toro y moi and and and. another fact that sets this album apart from others is the great production and the lovely voice of josh kolenik. you must not be a fan of chillwave to like this... you must be a fan of real good music.... then you will love this.
small black on myspace: http://www.myspace.com/smallblacksounds

similar artists
:

washed out, millionyoung, toro y moi, blackbird blackbird, teen daze
tags:

chillwave, electronic
forthcoming album:
small black - new chain
(october 26, 2010)
(jagjaguwar records)

album will be available on iTunes!!!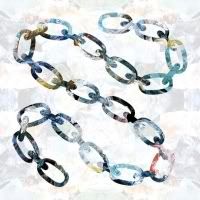 01. camouflage
02. search party
03. hydra
04. photojournalist
05. crisp 100s
06. goons
07. light curse
08. new chain
09. panthers
10. invisible grid