i am listening to thieving irons' album for a while now, but it had to grow on me first before i decided to write about it. thieving irons is nate martinez from brooklyn/ny and a rotating cast of musicians. his debut album is pretty hard to classify, which is obviously a good sign, since hard to classify albums don't bore me to death after a short while. i hear similarities to the national and at parts they remind me of frightened rabbit.... at least when they get way too dramatic. the albums is well produced and i like the basslines on most of the songs. listning to it with my headphones on is pure satisfaction. the first two songs i liked the best were "tow the line" and "wave's gonna break", but within the past weeks i learned to love the whole album. even though..... "wave's gonna break" is still the one song that stands out. heavily underrated band!!!

thieving irons on myspace: http://www.myspace.com/thievingirons

similar artists
:

the national, frightened rabbit, band of horses, bon iver, arcade fire
tags:

indie, alternative
actual album:
thieving irons - this midnight hum
(august 24, 2010)
(seabird recording company)

digital album is available on iTunes!!!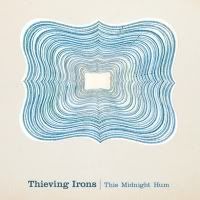 01. ashes on the riverbank
02. i can hear a pin drop
03. red horses
04. with the lights on
05. these shaking walls
06. babylon is burning
07. tow the line
08. on the horizon
09. sunken houses
10. wave's gonna break
11. artifacts