san francisco... once more. surprisingly there's a band i haven't been listening to while i was there. so... this sf 3-piece named burnt ones is absolutely new to me. their sound isn't! it's like mixing together all the best from rock n roll, glam-rock, surf-pop and noise pop. add some 60s doo-wah's and doo-doo's.... out comes an amazing album. no, i am not saying they're similar to jesus & mary chain, just because they use almost as much feedbacks, looped guitars and faraway vocals. they have more of the beach boys... if you'd ask me. it's like a soundtrack to a summer on psycho beach in the late 1960s. listen to "bring you all my love" and "real gone".... tambourines man... i want tambourines!

burnt ones on myspace: http://www.myspace.com/BurntOnesForever
similar artists
:

burning god little, best coast, the fresh & onlys, a place to bury strangers, the jesus & mary chain
tags:

noise pop, surf pop
actual album:
burnt ones - black teeth & gold tongues

(august 10, 2010) (roaring colonel records)

album available on iTunes!!!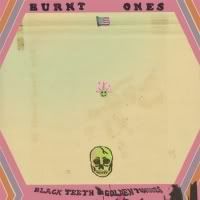 01. bury me in smoke
02. sunset hill
03. bring you all my love
04. soft city
05. burnt to lose
06. kaleidoscope eyes
07. gonna listen to t.rex (all night long)
08. famous shakes
09. real gone
10. only ones
11. never gonna die