a neat 5-tracker comes from the costa mesa / california based duo "i hate you just kidding". first of... don't you think this is an amazing band-name? i do! musically they do nothing new. they play a mix of emotional folk and dreamy indie. "my little dove" reminds me of mazzy star, espcecially when the harmonica sets in, while "untitled" reminds me of beach house a bit. it's a nice but short preview on what we can expect in the future from this promising band. well done!

we are trees on myspace: http://www.myspace.com/ihateyoujustkidding
similar artists
:

mazzy star, hope sandoval & the warm inventions, beach house, azure ray, now it's overhead
tags:

folk, bedroom pop
actual ep:
i hate you just kidding - untitled
(july 19, 2010)
(jeremybrockmusic)

ep available on itunes!!!!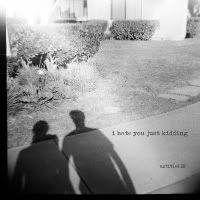 01. my little dove
02. sun-dried tomatoes
03. speakeasy
04. my hands / my fate
05. untitled