"new" ep by south-yorkshire 4-piece "exit calm". after their debut in may, it's their first release including 4 new songs and one remix. those 4 new songs (all on you, hope, higher learning and awake) tie in perfectly with the album. it's that mixture of early "the verve" style and shoegaze/post-rock elements that make their songs sound epic. it's like the boxer rebellion on lsd, just way way better. "hope" is probably their best song ever.

exit calm official website:
http://www.exitcalm.net/
exit calm on myspace: http://www.myspace.com/exitcalm

similar artists
:

the verve, the boxer rebellion, 93 million miles from the sun, highspire, tears run rings
tags:

shoegaze, post rock
actual ep:
exit calm - don't look down ep

(october 4, 2010) (club ac30)

ep is available on iTunes!!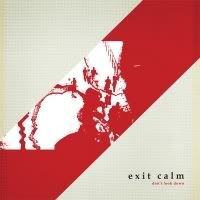 01. don't look down (edit)
02. all on you
03. hope
04. serenity (lost & found mix)
05. higher learning
06. awake