tennis' long awaited debut album is the very first highlight of 2011. after two singles on "fire talk records" and on "underwater peoples" they release their debut album on "fat possum records". the album itself is exactly what i expected it to be. a wonderful, catchy and kinda innocent tweepop record with a slight touch of surf-pop with tons of hints to the 1960s. i can see similarities to camera obscura, belle and sebastian, beach house, but also to best coast and dum dum girls. alaina moore and patrick riley are a bit like the midwestern tweepop version of baltimore's beach house. it's pretty hard to highlight anything, but to me, the opener "take me somewhere" is oober amazing. it could become one of my personal faves in 2011... the song and the album.

tennis at myspace: http://www.myspace.com/tennisinc

similar artists
:

summer camp, twin sister, camera obscura, beach house, dum dum girls
tags:

surf pop, twee
forthcoming album:
tennis - cape dory

(january 18, 2011) (fat possum records)

album will be available on iTunes!!!!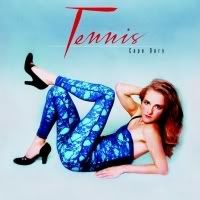 01. take me somewhere
02. long boat pass
03. cape dory
04. marathon
05. bimini bay
06, south carolina
07. pigeon
08. seafarer
09. baltimore
10. waterbirds